Read Time:
3 Minute, 57 Second
If you are thinking of buying a house, you should have a certified home inspection performed before making your final decision. An inspector will be able to inform you whether the property you are interested in has any harmful flaws that might jeopardize your health and safety. They will also be able to inform you of any issues that could affect the value of the home, as well as the cost of repairs.
Termite inspections
A termite inspection is an important part of a home purchase or sale. Termite damage can cost a significant amount of money to repair. This is why it is a good idea to get a professional to perform a thorough inspection.
During the inspection, the inspector will check the inside of the house as well as the outside of the house. They will also look for signs of moisture damage. Moisture issues can be caused by insufficient ventilation, poor storm water discharge, and ductwork condensation.
A termite inspection will reveal any evidence of past infestations. It will also help determine if there are any wood-destroying organisms active in the area. The inspector will also recommend any necessary treatments.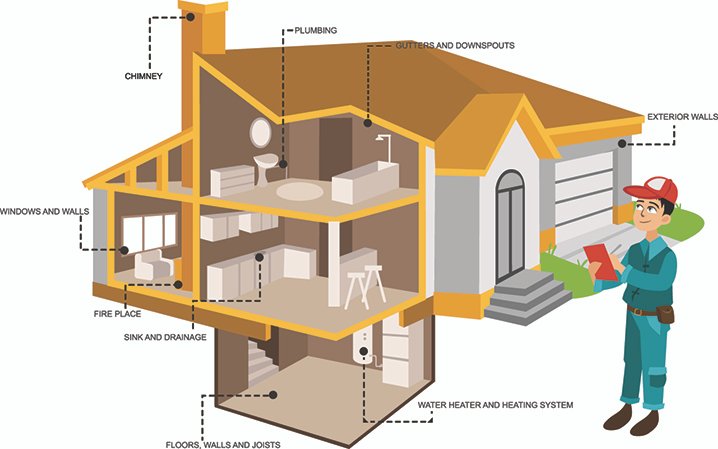 Radon testing
If you are conducting certified home inspections, you will likely be asked to perform radon testing. Radon is a radioactive gas that can build up in a home. It is odorless and harmless, but it can cause lung cancer. There are several ways to reduce the amount of radon in your home.
First, the test should be done on the lowest floor of your home. This includes the basement, unfinished crawl area, and unrenovated living space. Avoid experimenting in the bathroom or kitchen as well.
To ensure accurate results, you should follow the manufacturer's instructions. Your test should last for at least 48 hours.
Wood-destroying insect inspections
If you are buying or selling a home, you will want to get a certified wood-destroying insect inspection. In addition to helping you find the source of any problems, these inspections can also help you determine if there are any current or past infestations that may require professional treatment.
Wood-destroying insects are one of the most common causes of structural damage to homes. Termites, powderpost beetles, carpenter ants, and bark beetles are some of the most common types of wood-destroying insects in the United States. However, there are many other species that can cause varying amounts of harm.
A certified WDO inspector will conduct a thorough search for all signs of infestation. This includes searching for termite droppings, mud tunnels, and mud tubes. They will also check for any beams or posts that might be the source of wood-destroying insects.
Water supply and waste disposal systems
When considering a home, buyers need to be aware of the water supply and waste disposal systems. Most homes are connected to a public sewer system. These systems are inspected every few years. Keeping your sewage treatment system in good working order can prevent costly repairs.
Water supply and waste disposal systems are regulated by local health departments. They are inspected and approved under state law.
The EPA also inspects household sewage treatment systems with mechanical components on a regular basis. A certified inspector will perform an inspection to determine whether the system is operating properly. If there are any problems, they will recommend corrective action.
Advertising in a false, misleading, or deceiving manner
The ol' ole adolescent is not likely to be your target demographic, but that does not mean you can get away with a little bit of sexiness. Getting the most of your hard-earned dollars is no longer a cinch. This is a prime reason to take your cue from the experts. There is a tonne of technology that goes into running a modern home and garden business, from web-based technology to the latest in home security. You have to be a stickler to maintain a competitive edge, and a top-notch customer service department is the best way to go.
Costs of a home inspection
Home inspection costs are largely determined by the size of the property. A house over 2,000 square feet can cost hundreds of dollars to have inspected, but a small condo or bungalow can be inspected for less.
The cost of a home inspection may also vary depending on the state and region where you live. The average cost is $339 for a standard home inspection, but prices can go up and down.
The cost of the home inspection may be a deterrent to some first-time homebuyers. But a home inspection can be a useful tool to help you determine the current state of the home, which can save you money later on.